eFeedback PosLaju
If you're a PosLaju customer, you are here to register your eFeedback or may be you're not happy with the services provided and you probably want to raise a complaint, isn't it?
Well, if that's the case, I will show you how to use eFeedback PosLaju effectively so that you can get quick replies to your problems from Pos Malaysia themselves. This should be done if you don't get a response from Pos Laju customer service team!
Of course, filling out the Pos Laju feedback form isn't a rocket science but you need to be very accurate about the information you're providing in the complaint or request that you're raising. Here's how the initial Feedback form of Pos Laju looks like!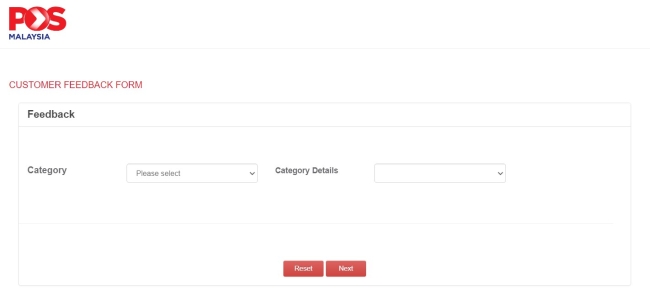 If you want to submit a request or want to raise a complaint, you can do it directly from the official website but before that, make sure to check our detailed guide to ensure that you get quick replies from the Pos Malaysia officials regarding your query. 
How to Submit a Request Using Poslaju Feedback Form!
The overall process to submit a request is very simple. Here's how you can get started!
#1. Visit the official website of Pos Laju eFeedback which is efeedback.pos.com.my or simply click here.
#2. Select Request from the Category option and then, head over to Category Details.

#3. There are 7 options to select while submitting a request. Here are the ones to select from:
Customs Related
Request to Hold Item
Request Proof of Delivery
Request for Redirection
Request to Return Item
Self Collect
Request for Second Delivery
#4. Now, select any of the above listed options in Category Details as per your needs and fill out the remaining details that are related to your parcel.

Pro Tip: Make sure that you write the description in detail and accurately that is easily understandable. The Details of Incidents/Description box can found at the end of the e-Feedback form.
#5. Once you fill out all the information, click on Next and follow the on-screen instructions shown to you. Depending on your parcel type, there are different instructions shown to each user and that's the reason why I am not providing any screenshot for the same.
That's it! Your request will now be submitted and you'll get a response from the officials of Pos Malaysia as soon as they resolve your problem. Just in case, if you wish to see the status of your parcel, you may check it here
Let's now see how you can raise a complaint by using PosLaju eFeedback if you're not happy with the services provided by one of the best courier companies in Malaysia.
How to Register a Complaint using e-Feedback PosLaju Online!
When it comes to complaints, there's a long list of issues that a customer faces. Similarly with Pos Laju, a lot of customers are either unhappy or want to raise a complaint regarding their parcel deliveries. So if you're one of them, here's how you can file a complaint against PosLaju using their Feedback form.
#1. Visit the official website of e Feedback Poslaju that is efeedback.pos.com.my to get started!
#2. Now select Complaint option from the Category section and then move on to the Category Details section.

#3. There are various scenarios why a customer or a seller wants to register a complaint with Poslaju. Have a look at them below!
I did not receive my AR Card
Issues on compensation matters
Item received with some contents missing
I received my item in damaged condition
I have bad experience with front liners
I did not receive notification card
I still have not received my item
Recipient is unknown
My item tracking status is not updated
Courier did not pickup my item
Item received late
I received wrong item

#4. Select the preferred option according to the problem you are facing as shown in above image and head over to the further boxes in the Poslaju e Feedback form.
#5. Now, fill out the complete parcel details and your personal information once you select the option from Category Details section. Make sure that you select the Sender, Receiver or 3rd Party option after filling out your parcel details. This would give Pos Malaysia officials an idea about the same.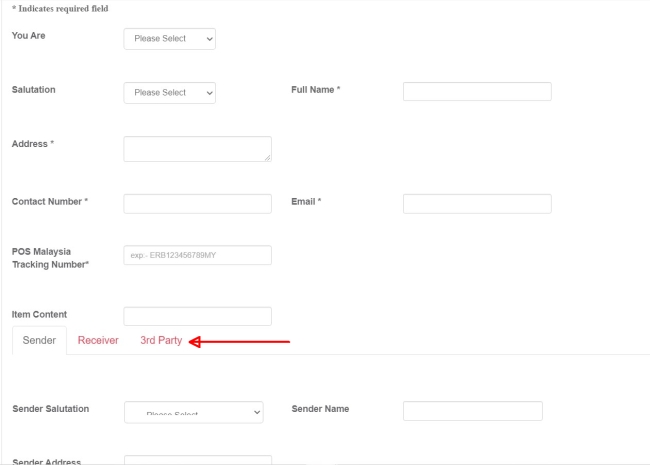 #6. Once done, fill our the further information and click on Next to follow the on-screen instructions.
Just like request option, when you file a complaint using an eFeedback Poslaju form, make sure you explain your problem clearly in the description box. This would surely help you in getting quick response from the Pos Malaysia officials regarding your complaint.
Closing Thoughts on e Feedback from Pos Laju!
eFeedback is one of the finest portals created by Pos Malaysia for customers, sellers and 3rd party vendors to solve their problems at the earliest! If you're one of them looking for a quick solution, do fill out the eFeedback Poslaju form and follow the procedure explained below. Just in case, if you have problems in tracking your parcel, you can track them here accurately!