Poslaju Kota Kinabalu is one of the major collection and operating centers of Pos Malaysia's leading courier Pos Laju. A lot of parcel are sent and received at PosLaju KK center.
Today, I've provided the details of Kota Kinabalu address, operating hours, collection hours, contact number and Google maps location too. So let's start with Pos Laju KK address and then with the rest.
Know status of your Poslaju package from the below given tracking box.
Poslaju Kota Kinabalu Address
Address: Jalan Chong Thein Vun, Off, Jalan Abdul Razak, Kota Kinabalu, 88670, Sabah, Malaysia
Pos Laju KK Services Offered!
Have a glimpse at the services provided
PosLaju KK Services Offered!
EMS International
Registered Mail (Pos Daftar)
Pos Parcel (Bungkusan Pos)
Pickup Service
Normal Parcels (Domestic and International) and many more!
The services aren't limited to these and there are a lot more available at the Poslaju KK center. We've just listed the ones that are most important and are commonly used by the citizens of Malaysia. Let me now share the operating and collection hours of Pusat Pos Laju Kota Kinabalu.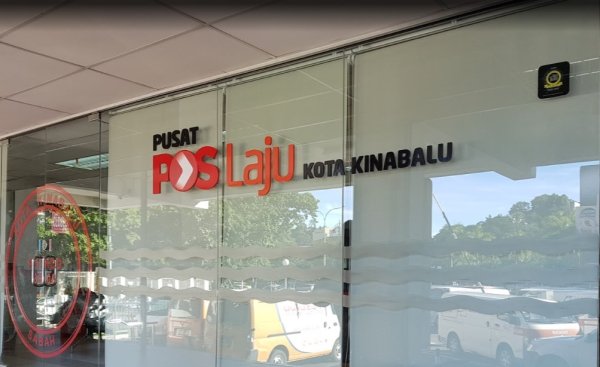 Pos Laju Kota Kinabalu Operating Hours
Monday – Friday: 8:00 AM – 5:00 PM
Saturday: – 8:00 AM – 5:00 PM
Sunday: Closed
Kota Kinabalu PosLaju Collection Hours
Monday – Friday: 8:00 AM – 5:00 PM
Saturday: – 8:00 AM – 5:00 PM
Sunday: Closed
If you're visiting the center just to check your tracking status, you can do it online too at our Poslaju tracking service. Or if you don't have any idea about the parcel hub where your package is stuck, do check this post to know more.
Moreover, Kota Kinabalu is a main center of Pos Malaysia, whereas, Poslaju DC Kolombong is just a distribution center. Do not get confused with both the branches of Pos Laju.
Poslaju Kota Kinabalu Contact Number
Phone Number: +60 88-210 855, +60 1-300-30-0300 (Toll Free)
Official Website: Pos.com.my
Use the below given Poslaju Kota Kinabalu location of Google maps to visit the center if needed.
Pos Laju KK Location on Google Maps
Now that you've got enough information about PosLaju Kota Kinabalu center, I hope you won't have any troubles reaching out to the location or contacting them personally from your mobile on given numbers. You can also
find other Poslaju centers near you
if you want to visit any other Poslaju office.