PosLaju Customer Service
In this Post, I am going to reveal PosLaju Customer Service & PosLaju Contact Number to register the complaints. PosLaju is a subsidiary of a Malaysian-based firm named POS Malaysia Berhad.
It is one of the leading courier companies which are connecting individuals across the place with its next day delivery service. The company has the widest network range and also largest courier fleet in Malaysia, making it one of the dominant and strongest players in the market.
PosLaju has able to spread out its products and services to across more than 1000 outlets which consist of 704 POS Malaysia outlets. Practically the company is able to reach out nook and corner thus providing convenient and affordable services to clients.
To ensure customers are given maximum access, more than 100 authorized agents are appointed on the job and moreover, all the PosLaju tracking numbers are unique in all terms.
These agents ensure customers are able to get access to services even in areas where the company is inaccessible.
The best part about the services provided by agents is, they are even available beyond working hours and during weekends ensuring customers are not required to deal with problems for a long period of time.
If you are one of the PosLaju customers, you can track and trace PosLaju parcels online from below given tracking box.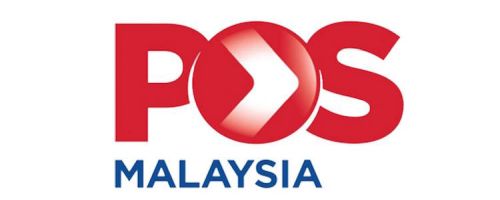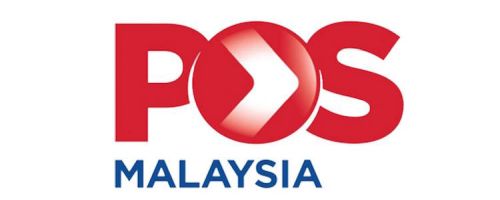 Poslaju Contact Number
Following are the Poslaju contact number & hotline numbers for registering a complaint.
+603-2727-9100
+603-2273-3927
Toll-Free Number: 1300-300-300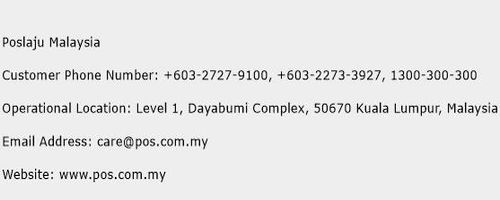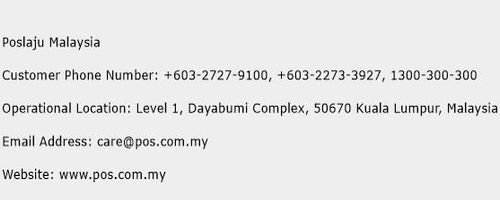 The customer service department operates on Monday to Friday from 08.30 AM to 08.00 PM. Saturday 08.30 AM to 05.00 PM. On Sunday, the services of customer care are not available for any complaint.
The service centers have the most knowledgeable staff available to work, who is up for resolving customer queries and concerns in the least time possible. You can ask Poslaju representatives regarding your tracking troubles or undelivered parcels too.
Poslaju Email
Here's the contact email for Pos Laju.
#1. care@pos.com.my
#2. supportcml@pos.com.my
One can email to any of the above 2 Pos Laju emails to register a complaint or can contact them for any other inquiries. And if you're still not getting response for your Poslaju complaint, you can connect with the company by using eFeedback Poslaju contact form with relevant queries.
eFeedBack Poslaju
If you're are not satisfied with the response from Poslaju customer care center or service center, you always have an option of eFeedback. Here's how the contact form looks like on the official website of Pos Malaysia.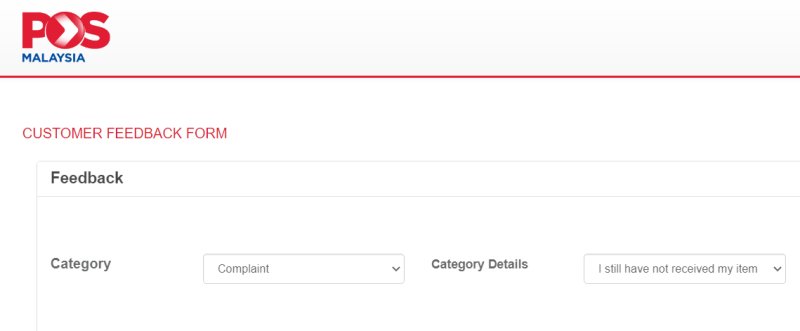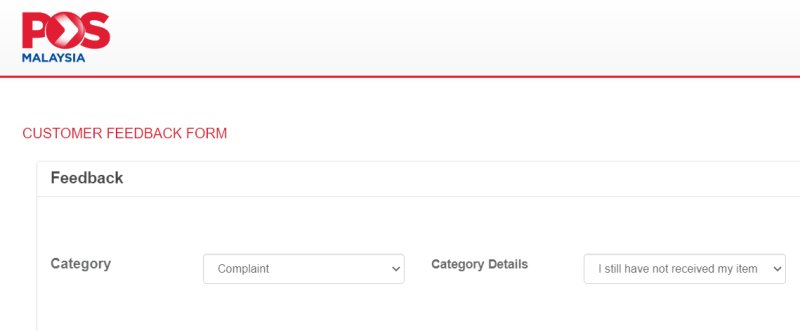 You can get the access of eFeedback Poslaju from here! Let us know in the comment section if you don't understand regarding what has to be filled in the feedback form. If you're wondering how you can get to know your Poslaju courier status online, here you go!
And if you've just reached out this page to find the generic information about Poslaju services, here's something you must know!
Services Provided by PosLaju Customer Service Center
The company dedicatedly provides services as listed below:
#1. Mail: Standard mail services in the form of Flexipack domestic, standard and non-standard mail, postcards, POS ekspres, POS Daftar, POS solutions and Mel Rakyat.
#2. Courier Express and Parcel CEP services: Herein courier services are offered with same day or next day delivery options. Along with it, time certain services, POS parcel, POS ekspres, POS Laju prepaid pack, prepaid envelopes, and boxes and on demand pick up is also offered to the customers.
#3. Retail services: The retail services offered by the company includes personal insurance, vehicle shipping service, bill payments and driving license renewal.
#4. International mail: The international mail services offered to clients includes inbound and outbound emails, packets and parcel deliveries. For more details of the rates charged, check PosLaju rates for International & domestic services.
#5. E-commerce: Online services in the form of e-payments, e-fulfilment and e-marketplace are offered to the prospective customers.
#6. Logistics: It includes Warehousing, freight forwarding services etc.
Owing to its services and perfection in work, the company has been able to achieve the leading position in the market.
Since its formation company has been focusing on providing best and reliable services to customers which are another reasons it is the most popular name in the market.
FAQs on Poslaju
1. How do I contact Pos Malaysia?
You can contact Pos Malaysia with this number: 00 60 3-7626 1900
2. Does Poslaju Deliver on Saturday?
Yes, Poslaju delivers parcels on Saturday.
3. How long does Poslaju take to deliver?
Order processing takes 48 hours and the parcel can be delivered in 2-5 business days depending on the delivery location. This excludes weekends and public holidays.
4. Can Poslaju send liquid?
Yes, you can send liquid but the sender is responsible for any damages done to other parcels with respect to the liquid parcel. Breaking or damaging isn't a responsibility of Poslaju.
5. What is Parcel Hub?
A parcel hub is a location where the seller has dropped the parcel or the parcel has now received by the hub nearest to the delivery location. If you're a Pos Malaysia customer, you can get complete details of Poslaju parcel hub here!
Conclusion of PosLaju Hotline Number
The courier and postal services provided by the company has undoubtedly made a breakthrough in the industry. Customers with these services are now able to have access to quality and that too at affordable prices.
Apart from this, they can also keep a track of their posts and couriers ensuring that delivery is made right within time to the ordered address. Stay tuned to PosLajuTracking.org for more information on PosLaju Contact Number.